York AC sour smell, proper UV light positioning near coils
by Warren W
(Brandon, FL)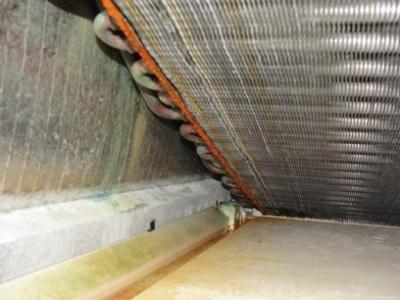 Rust on coils & lower pan
March 2, 2011
I live in Florida and have an attic installed air-handler, which is a horizontal left facing air handler. The central ac unit is just under 2 years old, York YZH048 3.5-4.0 Ton 17 SEER Affinity air conditioner system, with an AVY048 variable speed air handler with RX coil.
Over the winter, I noticed a sour smell coming from the home air ducts when the heat was on, and again as the weather warmed up, when I turned it to cool for the first time in 2 weeks. We contacted the installation company and they sprayed the coils off with some sort of de-sting and taped up the access cover to limit any possible outside air sources.
The AC tech also recommended that I ALWAYS run my fan 24/7 to help eliminate the problem in the future. After removing the AC filter and inspecting the coils with a mirror, I found rust on the 2-yr coil frame and the UV light located away from the coil A-frame.
I have no other sour attic smell or sour smell near the returns. Is the coil the source of the smell? Should there be rust on the coil frame and should I always run my blower which draws approx the same wattage as a 100 w light bulb.
Is the Honeywell UV light (SIUV100A208) in the correct location to control coil growth? Any assistance would be appreciated.