Extremely Old Sears Air Conditioner
by B.G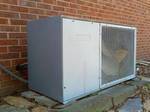 sears central air conditioner
I had sears – Roebuck And Co. air conditioner for nine years. When we first move in 2001, the central air units didn't have cool air coming out from the ac units. The fan was blowing air inside the house, but we were not feeling cold air.

When we call the air conditioner service people, they came and checked the system and said the Freon had run out, so they added Freon.

The sears central air conditioner runs well for one years and then in 2002, the fan stop running. The technician said the fan switch is not working and he replaces it with new switch.

The air conditioner had been running ever since. The only problem we have is with the Freon. We have to add it every years to make it stay cool. As far as I know, if been running well for old sear air conditioner units.